Millennium Global Investments
Website and application design and development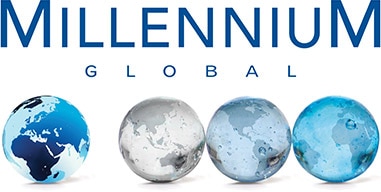 Website design & build of new website
Website management
Fully managed website hosting
Search engine optimisation
Website performance optimisation
Video editing
Application front end development
App UX advise
D3.js data visualisation development
Mailchimp HTML email design & development
Millennium Global is a currency management specialist and has one of the longest track records in the industry. Bristles and Keys have been involved in various projects with Millennium Global including:
The rebuilding and partial redesign of their website, which included search engine, website performance optimisation, website management and website hosting.
Front end development for an in-house application, which included design, user experience advise and d3.js data visualisation development.
Mailchimp HTML email design & development.
Website Design & Development
The website forms a central part of Millennium Global's marketing and PR by presenting an online brochure of their services together with a range of thought leadership content.
The website uses a custom WordPress theme and includes significant amounts of bespoke functionality, which includes custom plugin development, search engine optimisation and web performance optimisation.
The rebuild was required to allow content on the website to be updated more easily and intuitively and to create a flexible platform from which the website could evolve with the needs of the business. During the rebuild, measures were taken to preserve the existing SEO value of the website and improve SEO generally. The design of the website was to represent a gradual progression from the previous website, which involved improvements to the site navigation, footer and most layouts with some re-organising of the information structure. Steps were also taken to improve the user experience of the website across devices.
Video editing was carried out to the various corporate videos on the website to bring them up to date.
Bristles and Keys also provide ongoing development, maintenance and fully managed hosting for the website.
Front End Application Development
Bristles & Keys have provided front-end development for an in-house application, which included UX and d3.js data visualisation development.
The projects involved the effective display and navigation of complex multi-level data structures so as to be easy to use with a polished feel. The development work was JavaScript based and incorporated use of d3.js to achieve the various displays that were required with animated transitions between them.
Mailchimp HTML email templates
Bristles & Keys have provided a selection of custom HTML email templates to Millennium Global with much of this work carried out on-site allowing for rapid feed back on design and testing of the finalised templates.
In some emails accurate financial tabular data was required. The default Mailchimp approach of editable fields and repeating table rows was both too labour intensive and error prone. To solve this, automated tools were created that accept spreadsheet data and convert it to a HTML for inclusion within the email templates.
Adam has provided valuable assistance in many areas for Millennium Global including the design and build of our new website, application development, strategic advice and graphic design. He is responsive, creative and flexible. The team has enjoyed working with Adam and we would recommend his services wholeheartedly.